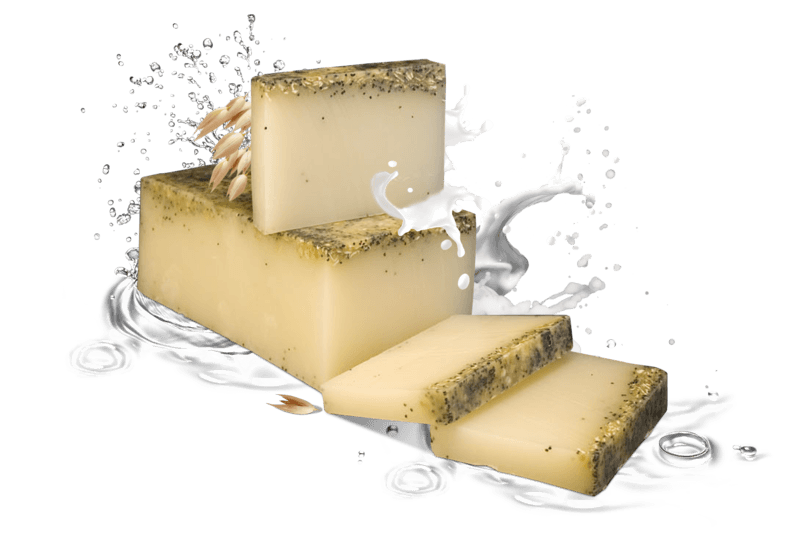 Soaps per kilo
Milk and Oats#5522
The soap is suitable for all those who take special care for the skin when washing. It contains milk, shea butter, vitamin E, oats , poppy seed – a rich coctail of ingredients providing soft skin care.
Shea butter - natural skin moisturizer; softening and conditioning agent. It contains
a large amount of fatty acids, tocopherols and phytosterols which have antimicrobial and moisturizing properties. They soften and moisturize skin and reduce its peeling. The butter has restructuring action on the epidermis and keeps the skin elasticity. Shea butter in the soap gives refinement, mildness and plenty of the soapsuds.
Yoghurt - a natural product obtained by the lactic acid treatment of the milk; it is used as an active ingredient with protective, regenerating and conditioning action. Milk moisturizes, soothes and relieves the skin and keeps it healthy and vigorous. When used in detergents it improves moisture preservation in the skin and gives creamy, soft and thick foa;.
Vitamin E – it is used as an anti-oxidant and conditioning agent;
Oats – they have a slightly abrasive and exfoliating effect;
Poppy seed – a decorative ingredient with soft exfoliating effect.
---
Melon & Appricot
Passion fruit