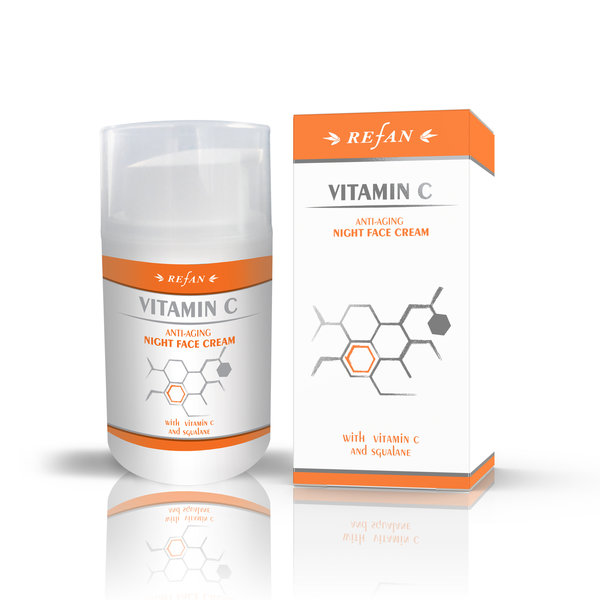 Vitamin C
VITAMIN C ANTI-AGING NIGHT FACE CREAM#06457
For optimal effect, use with REFAN'S latest product FACIAL FILLER VITAMIN C.
A POWERFUL CONCENTRATE REDUCING WRINKLES!
An antioxidant night face cream that fights skin aging and gives it bright and radiant appearance.
Enriched with:
– Vitamin C: stimulates collagen synthesis, strengthens tissues and reduces skin oxidative stress caused by environmental factors. REFAN company uses one of the most stable formulas of vitamin C, which is synthesized in a Japanese laboratory and has a proven whitening effect.
-Olive squalane: nourishes skin at night and improves its elasticity;
– Vitamin E: protects skin from premature aging by preventing the collagen destruction;
– Glycerin: restores skin's elasticity and strengthens its protective barrier.
Results of a conducted USER TEST for Vitamin C day face cream:
- 100% of the users have a good tolerance for Vitamin C day face cream;
After the test, participants felt their facial skin:
- 100% softer;
- 100% evening out the complexion;
- 100% tighter oval;
- 100% smoother.
After taking into account all criteria of the user test:
- 100% of the users consider that Vitamin C day face cream is effective as an anti-aging care;
- 100% of the users are satisfied and would use Vitamin C day face cream again.
How to use: apply to clean and dry facial skin in the morning for protection during the day.
50 ml
---
VITAMIN C ANTI-AGING DAY FACE CREAM
VITAMIN C SKIN LIGHTENING FACE SERUM