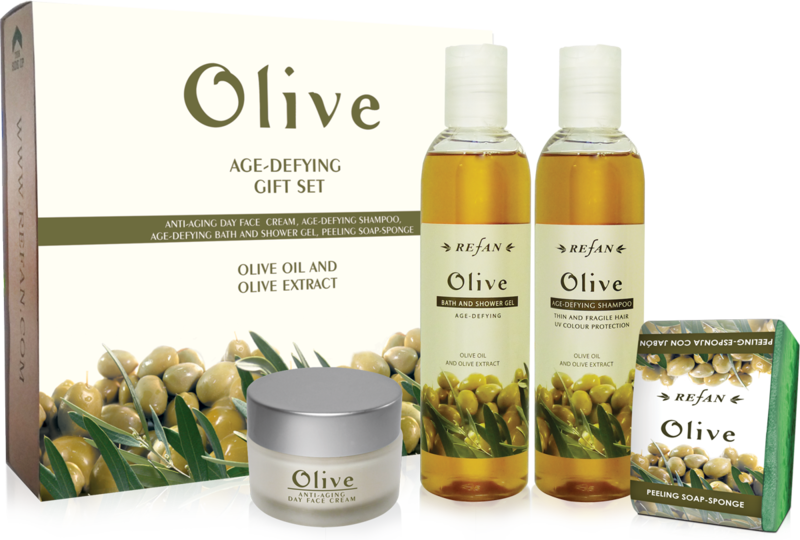 Olive
Set#7015
It this Gift Set:
Age-defying shampoo
For thin and fragile hair with uv colour protection. It contains olive oil and olive extract that restore the healty look, structure and the energy of fragile hair by firming it and making it thicker. Uv filter, which protects hair from sun radiation and the mechanical and chemical stress. The regular application has a favourable effect on maintaining healthy hair roots and elastic and shiny hair.
Day face cream
All-day special care to protect the skin of face and neck. Olive extract and olive oil, rich in antioxidants, protect cells from free radicals and maintain their vitality. Sea collagen restores skin elasticity and smooths the oval of the face. Uv-A and Uv-B filters protect skin from harmful effects of sunlight and prevent its premature ageing.
Age-defying bath and shower gel
Olive age-defying bath and shower gel makes plenty of foam with sensual fragrance, melts upon the skin and stimulates your senses under the water. The product contains olive oil and olive extract which have antioxidant action against free radicals, for stimulation of its vital functions. It tightens and smoothes the skin and makes it silky soft.
Peeling soap-sponge
Soap with olive scent. The combination of sponge and soap guarantees your comfort and pleasure in the bathroom.
Suitable for all skin types.
*The box is made of 100% recyclable material.
---
КОМПЛЕКТ МАСЛИНА ПРОТИВ СТАРЕЕНЕ- ДНЕВЕН КРЕМ
Day face cream