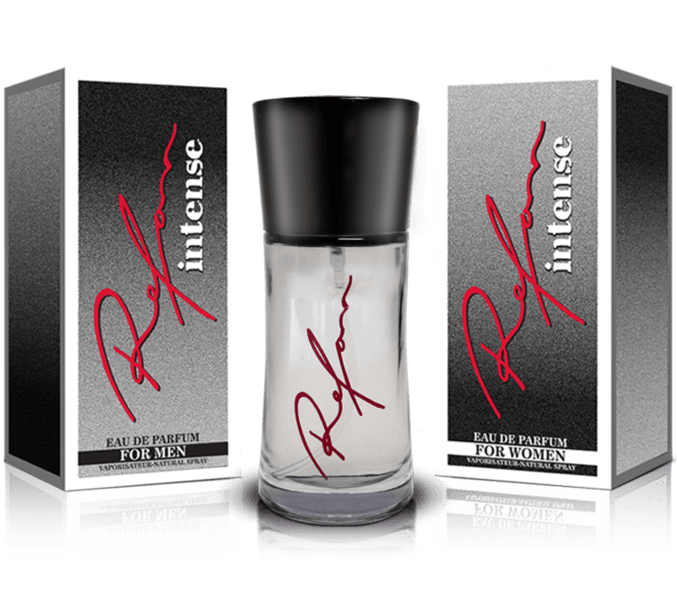 Refan Intense set
Perfumes#3359
New high class perfumes with added REFAN essence drops for more intense and long-lasting aroma. Harmonious blend of aromatic ingredients, that touches you with refinement and elegance.
EAU DE PARFUME REFAN INTENSE /55 ml/ + DEO ROLL ON REFAN /50ml/
FRAGRANCES FOR HER:
NEW 189
Rapturous, timeless and impervious to fashion, sunny and vivid scent of fresh citrus, fruits and flowers, sensual musk.
NEW 136
Sparkling freshness of frosted pomegranate, delicate blossoms of peony and magnolia, subtle amber and musk.

NEW 126
Sparkling fruity head notes - watermelon, kiwi, melon, a delicate touch of jasmine, pink cyclamen and warm musk.
NEW 166
Sexy, fresh and irresistible Oriental scent. Elegant and luxury blend of rose and jasmine, the most delicate notes of patchouli and vetiver, sweetened with vanilla and soft white musk.
NEW 173
Seductive floral blend of Jasmine Sambac, tuberose, delicate vanilla. Caressing Oriental whiff, sandalwood and musk.
----
192 - Intoxicating, fresh, floral, woody scent of orange blossom, a touch of raspberry, Arabian jasmine, gardenia, honey, patchouli, vanilla, amber.

034 - Life is more beautiful and noticeable with this new fragrance with the extravagant blend of black currant, orange blossom, iris, jasmine, patchouli, vanilla and chocolate.

324 - Sweet and elegant blend of freesia, rose, patchouli, vanilla, musk.

187 - Extremely feminine fruity and floral scent. The top notes of bergamot and peach move into a floral heart of rose, orchid, violet, vanilla, musk, magnolia.

325 - Fresh spicy notes blended with white flowers, a hint of coconut, sandalwood, musk and amber.

FRAGRANCES FOR HIM:

NEW 207
Classic, sexy, strong and masculine fragrance. Elegant and harmonious blend of spices and rose with notes of amber, tobacco and sandalwood. Leather notes add density, softness and refinement.
NEW 209
Extremely attractive fragrance, woody-oriental, seasoned and glamorous. Mint, ginger and black pepper combined with soft woody and leather notes.
NEW 203
Uncompromising masculine scent. Head notes of fresh lavender, sage and bergamot, an elegant floral bouquet of geranium, rose, lily of the valley and jasmine. Heart notes of patchouli, cedar, sandalwood with a subtle touch of vanilla.
NEW 211
Impressive fragrance with head notes of lemon, tagetеs, sage, seasoned and balsamic blend with pronounced woody notes, patchouli and amber.
NEW 251
Elegant, sexy, masculine scent with head notes of bergamot and lemon, followed by star anise and guayacan, leather notes, tobacco, tonka bean.

219 - Modern and sensual scent, grapefruit, warm spices, a touch of rose and cinnamon, leather and woody notes, patchouli, amber.

409 - Fresh mint, green apple and lemon, warm aromatic geranium, Atlas cedar, vetiver, oak moss.

407 - Modern and elegant - aromatic blend of aquatic and woody notes, bay leaf, jasmine, patchouli, cedar, ginger.

226 - Fresh, elegant, eternal, fragrant - refined citrus, aquatic notes, warm musk ..

246 - Citrus - aquatic, lavender and sage, guayacan, cedar, patchouli.
---
Perfumed deodorants